Notwithstanding the title of this post, perhaps nobody deserves blame.
Sometimes, a good or service rises in price solely as a result of changes in supply and demand. And if the price of something climbs because of market forces, then it's merely a reflection of unfettered exchanges between buyers and sellers.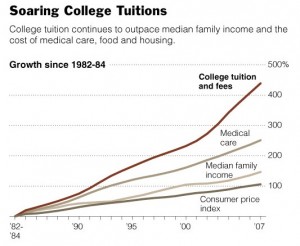 But politicians and bureaucrats often distort market forces with subsidies. And even though consumers ostensibly benefit when government helps to pay for something, intervention can have very costly consequences.
I've already shared an amazing chart and a very powerful video to help explain how government subsidies in health care have created a third-party payer problem that has resulted in rapidly rising prices and considerable inefficiency in that sector.
Well, the good intentions of government also are causing problems for higher education.
Here's a superb video from Learn Liberty, explaining why college expenses are skyrocketing.
Wow. Reminds me of this post about politically correct featherbedding at the University of California at San Diego. I can see why college administrators like this system. But it's definitely bad news for students who get stuck on a treadmill of higher tuition and more debt.
P.S. At 2:18, the video has a discussion of how subsidies lead to higher costs, which then leads to more demands for additional subsidies. Hmmm…bad government policy leads to more bad government policy. Seems like there's a term for that phenomenon.
P.P.S. I highly recommend the Learn Liberty videos. Here's one on protectionism, one on the legality of Obamacare, and here's another about how excessive federal spending is America's real fiscal problem.